Our 2016 reunion will take place at Hungry Mother Park on July 30, 2016. We have reserved pavilion one this year that over looks the water and registration starts at 10 A.M, with the call to order at 11 A.M. and our catered lunch at 12 noon. We hope to see you there!
Directions to the Reunion: To get to Hungry Mother State Park, take I-81 to Exit 47. Go left into town. Follow signs to McDonalds. Turn right at the light. Follow Route 16 to the park. Tell the gate attendant that you are with the Copenhaver reunion and he or she can direct you to pavilion 1.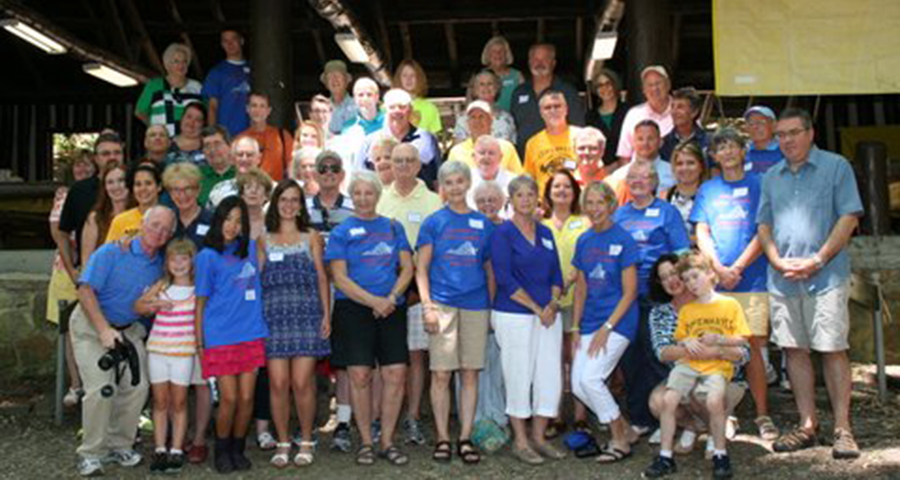 287th Anniversary of the Descendants of Frederick & Eve Copenhaver in America
On a picture perfect day, the Copenhaver Reunion of 2015 was held as the sun glistened through the trees on the warm morning of August 1, as more than 60 family members gathered at Shelter 2 at Hungry Mother State Park in Marion, Virginia. Kelly Stinson-Bagby, presided over the event and welcomed the family and requested the group introduce their families, their lineage and any little tidbit of a story they cared to share.
Oldest was Harry Balzan at 96 years old from Chattanooga, TN ; the Youngest was Zoe Spears Espada at 7 1/2 months, daughter of Zaida Espada and Lelia Griffith Spears; and representing his family who Traveled the Farthest was Matthew Harris from Statesboro, GA.
Our family has been gathering each year for several decades for a reunion to celebrate our ancestors, meet new family and have great time! We make every effort to keep our expenses to a minimum and just to share, we are constantly updating our mail list by removing those where addresses are no longer valid, but we mail approximately 300 newsletters each year and with the cost of printing and postage (envelopes and stamps) it is still expensive.